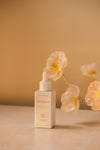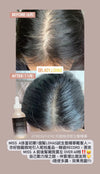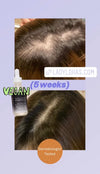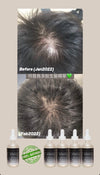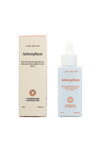 Atmosphere 漢方多肽生髮精華 Hair Density & Scalp Serum
Luna Nectar 的生髮系列,在成分和效果上一直是卓越超群!這次 LOAHS 為你呈獻高效生髮產品:「漢方多肽生髮精華」!持續塗抹於頭皮,可促進頭髮生長,改善脫髮、頭髮稀疏、髮際線後移等問題!
「漢方多肽生髮精華」蘊含多種生髮活性成份,能明顯增加髮量,解決脫髮、掉髮、髮量減少的困擾!成分一如既往重量級,包括:
異黃酮、維他命C和鼎鼎大名的生髮王者「紅花苜蓿」
 ➜ 可延長毛囊生長周期,真正從根部刺激頭髮生長;馬尾草
 ➜ 有助激活頭皮血液循環,進而滋養毛囊,讓您擁有更長、更濃密、更豐盈的秀髮;莧籽
 ➜ 從髮根提升彈力及頭髮的亮澤,尊享豐盈活力!
這次配方除了紅花苜蓿這個不可或缺的主角,還結合了「乙酰基四肽-3」,讓整個生髮技術進一步提升!
乙酰基四肽
-
3 (Acetyl Tetrapeptide-3) ➜ 又被稱促眉肽 / 仿生肽,
是由4個氨基酸組成的的美容多肽,可以刺激毛囊發育,推進毛髮自然增長,同時有效減少因為老化引起的
頭髮稀疏
現象,令髮量更濃密。
有臨床研究顯示,「乙酰基四肽-3」與「紅花苜蓿」結合使用時,可達到最佳效果!這種結合可以使毛囊恢復生機,改善血液循環,並有助供養於髮根,增加頭髮的厚度、韌度:

研究讓志願者連續於頭皮塗抹「乙酰基四肽-3」 +  「紅花苜蓿」 4個月後,生長期的毛髮平均增加了13%!靜止期毛髮密度減少了29%;生長期 / 靜止期(Anagen / Telogen)階段的頭髮相對增加了 46%!!   
素食人士適用
無動物測試
無麩質
✓ 通過皮膚科測試:

無刺激性
無人造香料
客戶報告 3-4 週開始見效
Imagine: an airy, lightweight concentrated serum formulated with peptides, vitamins, and herbal extracts that achieves the look of the fuller, denser, and thicker hair, as well as contributing to the condition of the scalp.
✹ No grease or residue.
✹ Product testers have reported seeing a difference in the look and feel of the density, thickness, and condition of their hair and scalp in an average of 3-4 weeks
In Customer Testing...
98% said they would recommend to a friend
98% said they noticed a difference in the look and feel of density of hair
100% said they noticed a difference in the look and feel of softness of hair
95% said they noticed a difference in the hydration of scalp after use
92% said they noticed a difference in hair shedding after use
**Based on a survey with 20 participants
↓ 用 家 實 測 ↓ 


容量 | 60 ml  
✓ All-natural, vegan, cruelty-free, gluten-free
✓ Dermatologist tested: Non-irritating
✓ pH balanced
✓ Fragrance-free (naturally occuring maple scent)
✓ Customers report seeing full results in 3-4 weeks
Size: 60 mL / 2.03 fl.oz 
Aloe Barbadensis (Aloe Vera) Juice, Amaranthus Caudatus (Amaranth) Seed Extract, Lactobacillus, Acetyl Tetrapeptide-3, Trifolium Pratense (Red Clover) Flower Extract, Butylene Glycol, Dextran, Tetrasodium Glutamate Diacetate, Caffeine, Polygonum Multiflorum (He Shou Wu) Extract, Niacin, Glycerin, Angelica Archangelica (Angelica) Extract, Equisetum Arvense (Horsetail) Extract, Centella Asiatica (Gotu Kola) Extract, Scutellaria Lateriflora (Skullcap) Extract, Xanthan Gum, Zinc Oxide, L-Arginine, Citric Acid
*Certified Organic
洗頭及吹乾後,把精華均勻塗上滴於需生髮的頭皮區域 / 脫髮地方,加以按摩及徹底滲入頭皮。
持續每晚使用一次。
用量不需要過多,足夠頭皮吸收即可,但持續勤力使用。
一條頭髮分界為例,用量大約4-5小滴。
一定要配合按摩,促進精華吸收

  
Apply a few drops or as needed once daily (at bedtime) to clean, dry scalp.
Massage into scalp thoroughly.
Do not wash hair after application.
FROM OUR FOUNDER
One summer, my sister came home during the school break with suddenly mile-long fluttery eyelashes. How did that happen, I wondered. And how can I get lashes like yours? We share the same DNA!
At first she played coy, but then she let me in on her secret: a hormone-based chemical serum in which the active ingredient was a compound made of medication for glaucoma issues. This cost all of her allowance and then some, every 2 months. It didn't matter that this serum stung her eyes and caused redness and eczema on her eyelids from time to time; she was hooked. I was shocked. And even more shocked when after prolonged use, her lashes fell out in clumps at a time, leaving spaces in her lashline. 
Our team created this all-natural lash and brow enhancing formula after seeing family members and friends use these types of chemical serums and eyelash extensions that came with harmful side effects. There was a void in the market where existing lash serums and wellness products were either full of chemicals, very overpriced, or some claiming to be completely natural, when in fact they were not. 
At a young age, I suffered from many allergies, skin conditions, and constant fatigue. Growing up in a household that emphasized Eastern herbal medicine and the connections between diet, mind, exercise, and physical appearance, I was able to heal my maladies with these techniques. I spent much of my time hidden away in the kitchen as a child mixing up my own all-natural skincare concoctions. As I grew up, those habits were forgotten in place of a hectic lifestyle. After it all reached a boiling point, I found myself revisiting holistic health in search of authenticity and deeper fulfillment, and it was a natural step to take the leap into creating green solutions. I wanted all women to feel that they could take control of their own well-being, appearance and spirit, and feel confident by nourishing themselves with natural remedies and mindfulness.
Our mission goes beyond skincare. We're founded on the principle of a streamlined back-to-the-roots lifestyle while maintaining quality and authenticity. We cherish minimalism and outspokenness. We love uncomplicated yet effective rituals. We strive to empower appreciation of inner beauty and strength, while providing natural solutions to enhance and radiate.
- Mia
Founder, Luna Nectar 
您也許也感興趣的⋯⋯
We also recommend