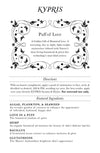 深度滋潤-撫平細紋-緊緻肌膚-重現光澤
奢華的質感,有效滲透肌膚,一瓶能全面滿足你乾燥、抗老、保濕、緊緻需求的面霜。
美國多間五星級奢華酒店和度假村(如美國四季酒店、比華利 Carasoin Day SPA) 都採用Kypris Beauty 品牌旗下的高端護膚產品為客人提供 Day Spa 服務。
星級成份分析
白樺茸 
➔
有「真菌之王」、「森林鑽石」之稱號,
富含200多種營養元素,更是當今治療糖尿病的關鍵。
白樺茸含有超大量抗氧化劑,活氧指數值 (ORAC) 為146,000!! (超級漿果 Acai Berry 值數都只係7,390) 白樺茸還可以強效地清除自由基,促進代謝,延緩衰老速,坊間常說長期服用可延年益壽,用作美容保養也可達至養顏抗老功效。
ECTOIN ➔ 
強大的細胞修復因子,從埃及的鹽水湖、海水及鹽質沙漠等惡劣環境發現的一種蛋白。
ECTOIN 
會束縛細胞周圍的水分子,在極炎熱、極乾旱的沙漠環境下,Ectoin成為維持綠色植物鎖水和持續生長的珍貴成分。由於來源很稀有,即使人工合成也特別困難,所以價格特別昂貴。
倒地鈴 ➔  全草可以入藥的植物,藥用價值高,能清熱解毒,對因濕熱引發的皮膚問題如濕疹有很好的治療作用,故對敏感肌亦極為適合。
脫水木糖醇(Anhydroxylitol)、木糖醇葡萄糖苷(Xylitylglucoside) ➔ 
一種專有的複合補水保濕份子,是碳水化合物衍生化合物,
能夠有效增加角質中的含水量,防止水份流失。
植物角鯊烷 ➔ 具非凡保濕力,不堵塞毛孔、不致粉刺,親膚度高,可促進血液循環並促進膠原蛋白的形成。
積雪草 ➔ 護膚界新寵兒成份,一種生長在亞熱帶地區的草本植物,在民間醫學中被廣泛使用,具有良好的癒合傷口功效,能增強表皮的抵抗力,強化肌膚屏障力,並賦予肌膚彈性。
茉莉花 ➔ 性質溫和,有「子宮的養命草」這個美譽,是養顏恩物。
茉莉花有效抗衰老,可改善暗啞無華的面色。
容量 Size | 46 ml
適用膚質 |成熟、乾燥、皺紋、下垂、無光澤的疲倦肌
A golden gift of botanical Love.
A nurturing, anytime, light-weight moisturizer infused with Nature's most loving botanicals & green biotechnology's most kind actives.
For complexions desiring botanical nurturance for anytime softness and moisture.
*LOVE IN A PUFF The botanical wisdom of quiet.
*HEMP An organic botanical oil nurtures the Beauty of skin's delicate barrier.
*BACILLUS A fermented ocean extract discovered during an academic expedition moisturizes and hydrates skin to enhance radiance.
*GLUTATHIONE The 'Master Antioxidant' brightens skin's appearance.

- Formula: Vegan. Gluten-free. Free from gluten, parabens, sulphates, petrochemicals, silicones, synthetic dyes, artificial fragrance.

- Origin: Made in USA.

- Packaging: Glass pot with lid in recyclable cardboard box.

- Shelf Life: Use within 3 months from opening.

- Animal Rights: Not tested on animals. Cruelty free
Aqua/Water/Eau, Glycerin, Coconut Alkanes, Jasminum Grandiflorum (Jasmine) Flower Cera, Butyrospermum Parkii (Shea) Butter, Lactobacillus, Adansonia Digitata (Baobab) Seed Oil, Hydrogenated Lecithin, Cetearyl Alcohol, Cannabis Sativa (Hemp) Seed Oil, Squalane, Shea Butter Ethyl Esters, Leuconostoc/radish Root Ferment Filtrate, Xylitylglucoside, Silica, Cardiospermum Halicacabum Flower/leaf/vine Extract, Oxidized Glutathione, Bacillus Ferment, Anhydroxylitol, Asiatic Acid, Asiaticoside, Cetearyl Glucoside, Cocos Nucifera (Coconut) Fruit Extract, Ectoin, Helianthus Annuus (Sunflower) Seed Oil, Inonotus Obliquus (Mushroom) Extract, Lecithin, Madecassic Acid, Pullulan, Sodium Hyaluronate, Rosmarinus Officinalis (Rosemary) Leaf Extract, Cococaprylate/Caprate, Sclerotium Gum, Sodium Anisate, Sodium Levulinate, Xanthan Gum, Xylitol, Alcohol**, Benzyl Alcohol, Benzyl Benzoate, Linalool, Citric Acid
** Organic Alcohol 
取適量面霜點塗於面部,然後均勻輕柔抹開。
   

With an honest compliment, apply a pearl of moisturizer to face, neck, & d

é

collet

é

 as desired, AM & PM, avoiding eye area. For best results, apply over your favorite KYPRIS serums & elixirs. For external use only.
KYPRIS 以草本醫學為基礎,透過尖端科學,精準的研發出確實有效的新一代植萃保養。
   
KYPRIS is a luxurious line of high-performance, holistic skin care boasting organic, wild-crafted, and sustainably grown botanicals blended with the best of green biotechnology for gorgeous skin and an ecstatic experience of your divinely unique Beauty and Being.
KYPRIS is GOLD certified by the US Green Business Association, California Prop 65 Compliant, a member of LOHASIA, a member of The Green Spa Network, and the Global Wellness Institute.
All formulations are natural and nature-derived, powered by the best of traditional techniques and natural science, packaged in glass, and never tested on animals. Formulas are either intended to be scent-neutral or include fragrant essential oils and plant extracts for aromatherapeutic benefit, never synthetic fragrance materials.
In addition, we use beautiful clinically validated actives such as liposome-encapsulated vitamins and herbal constituents, biomimetic peptides, bioidentical antioxidants, and plant stem cell technologies across our range.
KYPRIS can be found in select five-star properties like Ojai Valley Inn and Spa, Omni La Costa, Civana, and select Four Seasons. Kypris also partner with corporate retailers in 15 countries like Forty Five Ten, Nordstrom (24 locations), Credo Beauty, Galeries Lafayette, and high-end med & day spas like Carasoin (Beverly Hills).
您也許也感興趣的⋯⋯
We also recommend