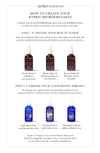 Beauty Elixir II 陳年廣藿香平衡活膚油 (二號油) Balancing Flowers
Balancing Flowers 是一枝平衡養膚,尤其適合混合瑕疵肌重點使用的多活性美容油。透過配方內精挑細選的 CoQ10、維他命C、可持續來源的植物精華以及加入奢華芳香療法(混合印度茉莉、玫瑰天竺葵、陳年廣藿香和甜薰衣草)可減少油脂分泌不平衡,紫外線入侵,使皮膚柔軟、明亮、健康。因為質地和功效兼備,深受 LOAHAS 客戶愛戴。
配方亦富含通過發酵微生物或取自胺基酸而產生的 Bio Identical CoQ10,比常規CoQ10能更有效降低皺紋的形成,及令皮膚細胞代謝加快。另外亦加入左旋維他命C,能強效對抗游離基,深層修護肌膚,並可刺激膠原蛋白增生,同時抑制黑色素合成。
美國多間五星級奢華酒店和度假村(如美國四季酒店、比華利 Carasoin )都採用Kypris Beauty 品牌旗下的高端護膚產品為客人提供Day Spa 服務。
容量 Size | 47 ml、14 ml
適用膚質 |混乾肌、皮膚泛油、瑕疵痘印、色素沈澱。
For flower lovers....
Beauty Elixir II: Balancing Flowers is a balancing, multi active beauty oil. Bio-identical CoQ10, Vitamin C Ester, sustainably sourced botanicals, & soothing aromatherapy diminish the appearance of imbalance and UV over-exposure for soft, luminous skin.

*BALANCING AROMATHERAPY lndian jasmine, rose geranium, aged patchouli, and sweet lavender balance and soothe the appearance of oily, fussy skin.

*BIOIDENTICAL ANTIOXIDANT COMPLEX Bioidentical CoQ10 & Vitamin C ester diminish the appearance of sun overexposure.

*RAINBOW OF BOTANICALS An alphabet of vitamins, antioxidants, amino acids, & essential fatty acids impart glow & softness.
Helianthus Annuus Hybrid Oil, Cocos Nucifera (Coconut) Oil, Vitis Vinifera (Grape) Seed Oil, Adansonia Digitata Seed Oil, Aleurites Moluccana Seed Oil, Calophyllum Inophyllum Seed Oil, Cucurbita Pepo Seed Oil, Ubiquinone, Lavandula Angustifolia (Lavender) Oil, Rosa Canina Seed Extract, Opuntia Ficus-Indica Seed Oil, Vaccinium Macrocarpon Seed Oil, Tocopherol, Hippophae Rhamnoides Fruit Extract, Rubus Occidentalis Seed Oil, Punica Granatum Seed Oil, Tetrahexyldecyl Ascorbate, Jasminum Grandiflorum Flower Extract, Carthamus Tinctorius (Safflower) Seed Oil, Stearyl Glycyrrhetinate, Pogostemon Cablin Leaf Oil, Rosmarinus Officinalis (Rosemary) Leaf Extract, Ascorbyl Palmitate, Helianthus Annuus (Sunflower) Seed Oil, Pelargonium Graveolens Flower Oil, Aqua/Water/Eau, Tocopheryl Acetate, Linalool, Benzyl Benzoate, Citronellol, Geraniol, Eugenol, Limonene

以掌心把 2-5 滴精華油先搓熱,順著微微熱力,把精華油分按壓於全面。
再順著紋路走向,以手指輕柔按摩促進肌膚吸收。
早晚使用,配合 KYPRIS 水分精華效果更佳。
  
As you anoint your skin with 2 to 5 drops of Beauty Elixir morning and night, offer yourself an honest compliment. For best results, apply Beauty Elixir AM & PM in combination with your favorite KYPRIS serums. For external use only.
KYPRIS 以草本醫學為基礎,透過尖端科學,精準的研發出確實有效的新一代植萃保養。
  
KYPRIS is a luxurious line of high-performance, holistic skin care boasting organic, wild-crafted, and sustainably grown botanicals blended with the best of green biotechnology for gorgeous skin and an ecstatic experience of your divinely unique Beauty and Being.
KYPRIS is GOLD certified by the US Green Business Association, California Prop 65 Compliant, a member of LOHASIA, a member of The Green Spa Network, and the Global Wellness Institute.
All formulations are natural and nature-derived, powered by the best of traditional techniques and natural science, packaged in glass, and never tested on animals. Formulas are either intended to be scent-neutral or include fragrant essential oils and plant extracts for aromatherapeutic benefit, never synthetic fragrance materials.
In addition, we use beautiful clinically validated actives such as liposome-encapsulated vitamins and herbal constituents, biomimetic peptides, bioidentical antioxidants, and plant stem cell technologies across our range.
KYPRIS can be found in select five-star properties like Ojai Valley Inn and Spa, Omni La Costa, Civana, and select Four Seasons. Kypris also partner with corporate retailers in 15 countries like Forty Five Ten, Nordstrom (24 locations), Credo Beauty, Galeries Lafayette, and high-end med & day spas like Carasoin (Beverly Hills). 
您也許也感興趣的⋯⋯
We also recommend