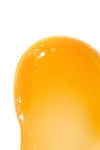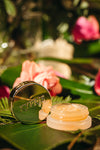 唇部也抗老!? 一起學懂 Kypris Beauty 貴婦級護唇秘技!
專門針對雙唇而研發,一款含有植物幹細胞、肽、透明質酸、植物蠟、可可和乳木果油的抗老花蜜軟膏!可深度軟化、舒緩和撫平嘴唇乾裂和細紋。品牌精挑高貴迷人的法國紫羅蘭及 印度茉莉香氣,讓你全方位體驗極緻矜貴的美唇方程式!
美國多間五星級奢華酒店和度假村(如美國四季酒店、比華利Carasoin )都採用Kypris Beauty 品牌旗下的高端護膚產品為客人提供Day Spa 服務。
 珍貴潤唇成分分析
● 海茴香幹細胞  ➪ 幹細胞萃取過程嚴苛且繁複,是名乎其實的貴族原料!與 DPHP 氨基酸結合,可軟化、舒緩和撫平乾裂嘴唇的外觀,顯著對抗乾燥缺水抗老化、除皺、細緻肌膚,及刺激膠原蛋白生成。
  
● 印度茉莉、法國紫羅蘭葉萃取  ➪ 除了幫助雙唇看起來豐滿光滑,還為產品定下極高雅的芳香基調,為雙唇帶來甜蜜且超長效的花香之吻。
● 透明質酸  ➪ 賦予唇部更長效的保濕感。
● 向日葵、米糠脂肪酸  ➪ 配方以向日葵、米糠脂肪酸代替傳統護唇膏裡的蜂蠟,是一款素食人士也適用的黃金護唇軟膏。
容量 Size | 5g
適用膚質 |乾燥脫皮、唇紋明顯人士;也可作唇膏打底使用,速成飽滿亮彩唇蜜!
For better kisses…
A decadent treatment balm cocoons lips and parched skin in peptides, plant stem cells, hyaluronic acid, botanical waxes, and cocoa & shea butters to soften, soothe, and smooth. Experience a buttery-rich texture infused with sweet, floral whispers of jasmine and violet aromatherapy.
* SUNFLOWER & RICE BRAN WAXES: Lip Elixir is a vegan wonder crafted with fractions of sunflower and rice bran fatty acids in lieu of beeswax, lending a rich, golden emollience to skin.
* HYALURONIC ACID: Bestows a hydrating sensation.
* SEA FENNEL STEM CELLS & PEPTIDES: Sea fennel stem cells coupled with DPHP amino acids soften, soothe, and smooth the appearance of parched lips.
* INDIAN JASMINE & FRENCH VIOLET: Bright, fruit forward aromatherapy for sweet, floral kisses.
* SHEA & COCOA BUTTERS: Fair trade, organic cocoa butter & women-farmed shea lend a buttery texture and decadent emollience.
Skin Type:
For all skin types, especially those with dry or parched lips.
Size:
5g / 0.17 oz
Directions:
Apply generously to lips as often as you Love. For external use only. 
Hydroxystearic / Linolenic / Oleic Polyglycerides, Oleic / linoleic / linolenic Polyglycerides, Butyrospermum Parkii (Shea) Butter, Theobroma Cacao (Cocoa) Seed Butter, Cetearyl Olivate, Sorbitan Olivate, Polyhydroxystearic Acid, Caprylic/capric Triglyceride, Dipalmitoyl Hydroxyproline, Butyrospermum Parkii (Shea) Butter Extract, Citric Acid, Crithmum Maritimum Extract, Glyceryl Behenate, Jasminum Sambac (Jasmine) Flower Extract, Limnanthes Alba (Meadowfoam) Seed Oil, Sodium Hyaluronate, Viola Odorata Leaf Extract, Benzyl Alcohol, Benzyl Benzoate, Cinnamyl Alcohol, Farnesol, Linalool
蘸取適量軟膏,輕柔塗抹於唇部。
   

Apply generously to lips as often as you Love. For external use only.

 
KYPRIS 以草本醫學為基礎,透過尖端科學,精準的研發出確實有效的新一代植萃保養。
   
KYPRIS is a luxurious line of high-performance, holistic skin care boasting organic, wild-crafted, and sustainably grown botanicals blended with the best of green biotechnology for gorgeous skin and an ecstatic experience of your divinely unique Beauty and Being.
KYPRIS is GOLD certified by the US Green Business Association, California Prop 65 Compliant, a member of LOHASIA, a member of The Green Spa Network, and the Global Wellness Institute.
All formulations are natural and nature-derived, powered by the best of traditional techniques and natural science, packaged in glass, and never tested on animals. Formulas are either intended to be scent-neutral or include fragrant essential oils and plant extracts for aromatherapeutic benefit, never synthetic fragrance materials.
In addition, we use beautiful clinically validated actives such as liposome-encapsulated vitamins and herbal constituents, biomimetic peptides, bioidentical antioxidants, and plant stem cell technologies across our range.
KYPRIS can be found in select five-star properties like Ojai Valley Inn and Spa, Omni La Costa, Civana, and select Four Seasons. Kypris also partner with corporate retailers in 15 countries like Forty Five Ten, Nordstrom (24 locations), Credo Beauty, Galeries Lafayette, and high-end med & day spas like Carasoin (Beverly Hills).
您也許也感興趣的⋯⋯
We also recommend